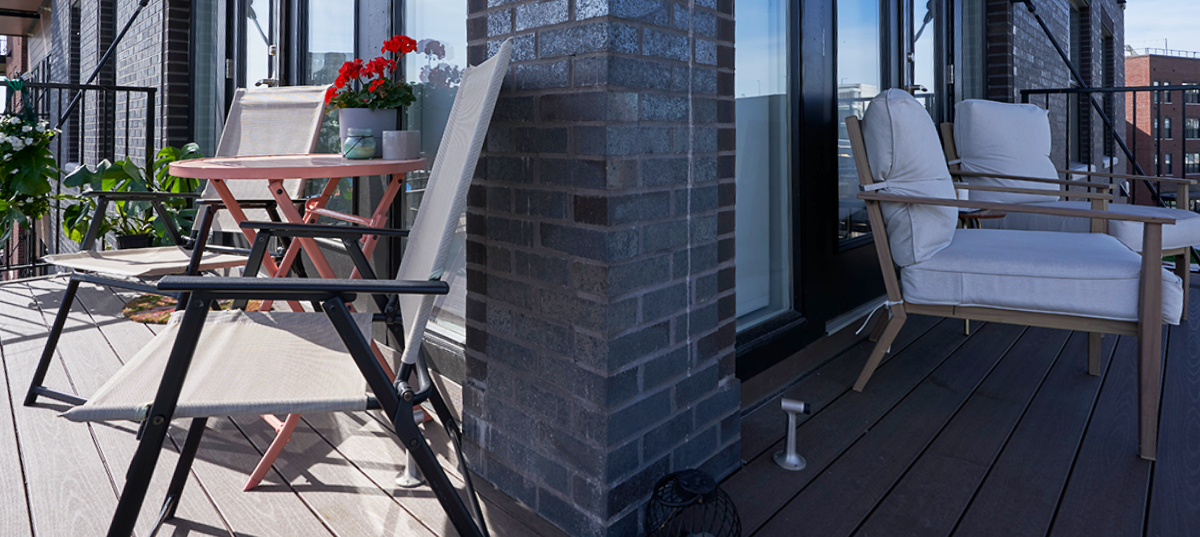 February 2023
VIDA offers residents some great outdoor spaces, like the rooftop deck and the patio between Buildings A & B, but private outdoor space is a dream of many people living in city apartments. The good news is that quite a few of our apartments and townhomes feature balconies, and even wraparound balconies. And making that wonderful outdoor space comfortable is an important part of furnishing your place. Since balconies present more constraints than decks and patios, here's how to think about furnishing and decorating yours.
What Do You Want Out of Your Balcony?
Chances are you'll use your balcony in a variety of ways, but establishing the primary purpose is your first step. Do you want an alfresco dining spot, a hideaway to relax and read, an area for entertaining guests, an outdoor garden, or something else? Don't spend a minute shopping until you decide the main way you'll use your balcony.
Measure Everything
Knowing how long and wide your balcony is will help you know what size furniture it can accommodate. Just be sure to factor in the space you'll need to maneuver around that furiture. If it's just you sitting in a comfortable lounge chair reading or working, you won't need too much clearance. But if you regularly have friends over and they all need a place to sit, you'll need smaller pieces with more space between them. Railing height is another important measurement that you may factor into decisions about seating height or plants.
Plan for Flexibility
Chances are, you'll use your balcony in more than one way, which makes designing for flexibility important. Look for outdoor furniture that looks great indoors and can be brought out to your balcony when needed. Meditation pillows are another great way to have additional seating. And if you have the storage space for them, folding chairs and side tables are a big help when entertaining on your balcony.
Beyond Furniture
Accessories and décor are what can really make your balcony special. A string of twinkle lights or a vintage lantern can turn any balcony into a magical place at night. Having an outdoor rug on your balcony is a great way to soften things up and add color. Balcony gardening is simple and it's a great way to feel like you're in nature. Plants, herbs, flowers, and even vegetables can all be grown on your balcony.
Privacy Please
If you don't want to feel like you're on display when you're on your balcony, there are lots of options to create privacy. A line of potted shrubs can provide both greenery and privacy. And if you're not up for maintaining real plants, there are lots of faux options. You can also use a bamboo screen, privacy screen or simple trellis. Shelves can also create privacy while giving you a place for decorative accessories or plants.