Take a Hike at Turning Point Park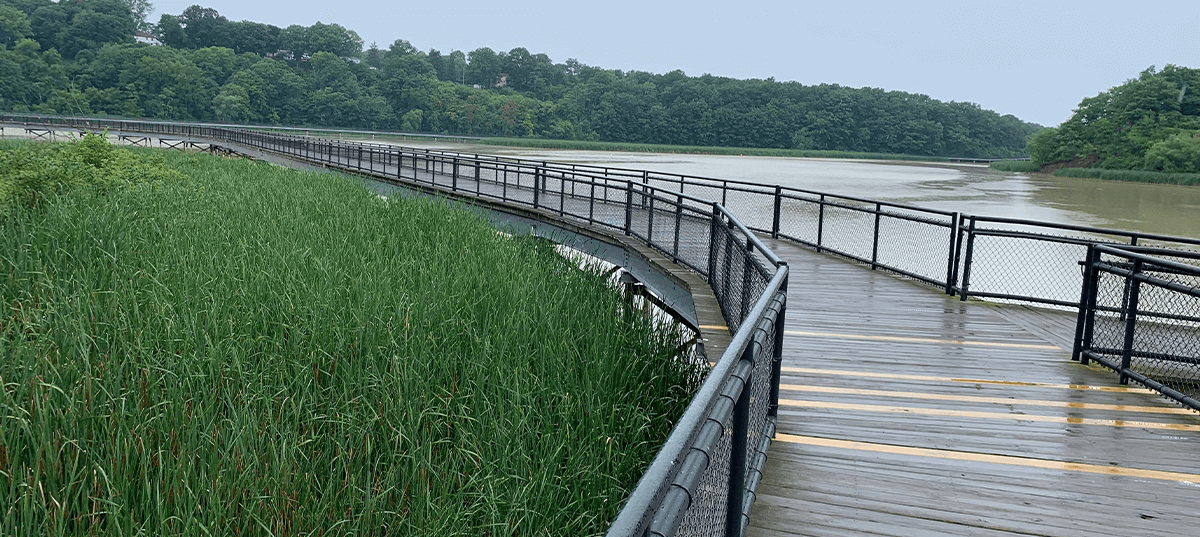 April 2022
One of the most beautiful hikes you can take in the City of Rochester is in Turning Point Park. The park covers 275 wooded acres along the banks of the Genesee River and includes a 3.7-mile out-and-back trail that winds along the shoreline. It's so amazing, it won the American Public Works Association "Transportation Project of the Year" award when it was constructed in 2008.
You'll enjoy wildlife, including swans, blue herons, purple martins, turtles and osprey as you walk along a 3,572-foot boardwalk that's built right over the river. The boardwalk connects to a land-based trail along on old railroad bed. And if you're in the mood for a longer hike, it connects to the Genesee Riverway Trail.
Turning Point Park gets its name from the large Genesee River basin which it surrounds. This basin served as a point for shipping vessels to turn around after heading through the Port of Rochester and before reaching Rochester's Lower Falls.
One of the parks more unique features is the Rain Garden. Water-loving plants like ostrich fern, filipendula, and coneflower act as filters to clean runoff water before it reaches the river. In addition to helping the environment, the garden creates a beautiful, natural habitat for birds and butterflies.
For history buffs, remnants of the old Genesee Docks, which helped make Rochester a major shipping hub on the Great Lakes, can be seen south of the turning basin along the western shore. There are also two seasonal waterfalls in the park that can be reached by a shorter, separate trail. If you go, the best place to park is the small lot on Boxart Street. Leashed pets are welcome.