Our Guide to Sleeper Sofas and More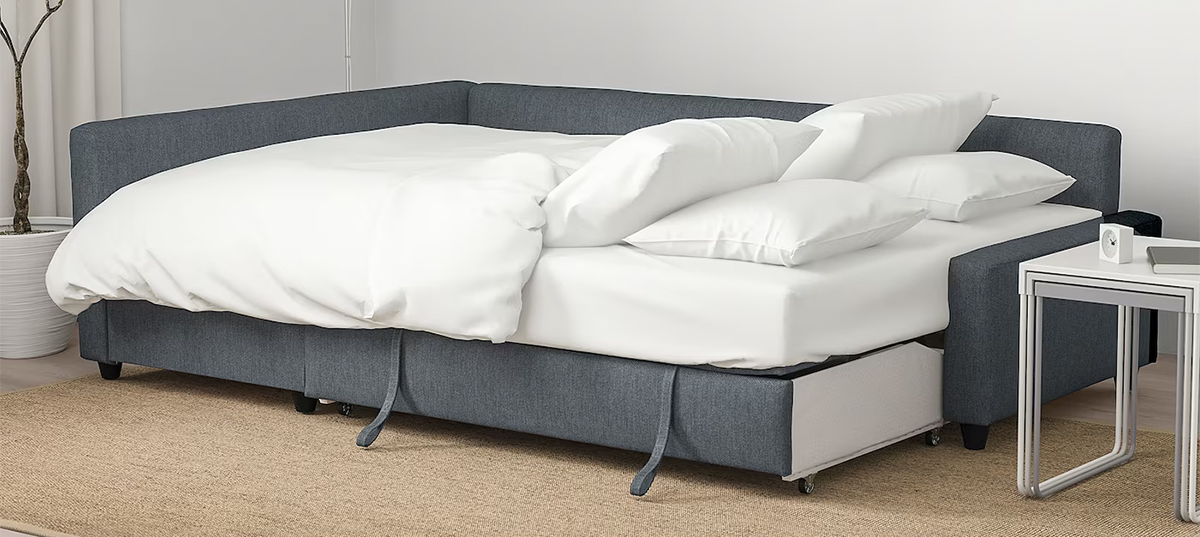 August 2023
Sooner or later, you'll have overnight guests in your VIDA apartment or townhome and they will need a place to sleep. If it's a rare occurrence, you might have them just sleep on the couch. But if it's something that happens more often, a sleeper sofa, sofa bed, futon, or daybed can really come in handy.
If the idea makes you think of those fold out couches in hotel rooms that have mattresses so thin you can feel the springs against your back, think again. There are more high-quality options than ever. Here four that each come with their own pros and cons.
Daybed
Daybeds are essentially a normal twin mattress on a frame. Designed for lounging, daybeds typically look more like a bed than a sofa. When using it as a couch, what serves as the arms are the headboard and footboard of the bed.
Pros: Daybeds are a budget friendly option. Since there is no pull-out mattress or mechanism to deal with, they are also easier to move and use.
Cons: They typically only provide the sleeping space of a twin bed and aesthetically, they look more like a bed than a couch.
Sleeper Sofa
A sleeper sofa looks the most like a traditional couch. These come with a built-in mattress (from twin to king). When it's folded out, the sofa's arms and back act as a headboard.
Pros: This is the most comfortable option for long-term or frequent use. They are also available in styles to fit most any décor.
Cons: Sleeper sofas weigh a lot and take up more space. They're typically more expensive than standard sofas, too. Also, the sofa-to-bed conversion requires the most effort.
Sofa Bed
Although often confused with sleeper sofas, sofa beds don't have an internal mattress. Instead, the back of the sofa folds down to form a flat surface and the sofa cushions become the mattress.
Pros: They are better for smaller spaces, because they're more compact. They're also more affordable and easier to convert between sofa and bed.
Cons: Because of the smaller footprint, they provide less sleeping space and guests must lie down lengthwise. Finding sheets can also be a problem since some have non-standard measurements.
Futon
Futons have earned a bad reputation as dorm room furniture, but there are plenty of options that transcend that vibe. They normally feature a covered, flexible mattress that sits on top of an adjustable folding frame.
Pros: A futon is typically the cheapest solution that can accommodate two people. They're also lightweight and easy to unfold and clean.
Cons: Aesthetically, there's no way of disguising that it's essentially one large, upholstered cushion. They're not always the most comfortable for sitting or sleeping.
Once you decide on how often you need an extra bed, how large it needs to be, how simple you want the conversion to be, and your budget, one of these options is likely to be a good fit.
At VIDA, we offer apartment and townhome in a variety of sizes and configurations. From studio apartments to townhomes with two-bedrooms and 2.5 baths, you can find our floor plans and take a 3D tour here.