Don't Make This Studio Apartment Design Mistake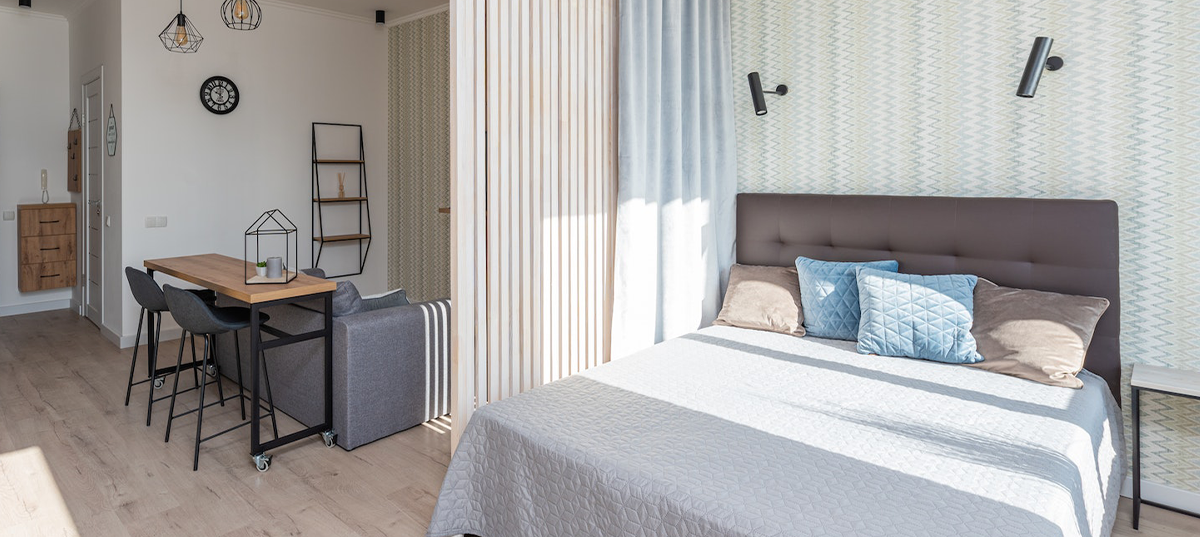 December 2022
While a studio apartment is great option for many people, they do bring some unique design challenges. Mainly, the idea that everything is in one large room. That can lead to the common mistake of furnishing and decorating a studio like it is one room. While there may not be walls separating areas for cooking, eating, working, relaxing, etc., you can create distinct living areas in your studio through the décor choices you make. And that approach can have a big impact on how it feels to live in a studio apartment. Here are four approaches you can use.
Color and Pattern
While there are things you can do to create physical divisions between areas (we'll get to that), you can do a lot with color and pattern choices. Establish a distinct color pallet for each living area, ensuring all pallets complement each other. Or use the same colors in two different areas but distinguish them by using only solids or patterns in each. You can create these tonal boundaries with small area rugs, pillows, upholstered furniture, or even artwork.
Shelves as Walls
If you choose shelving that's attractive on both the front and back side, there's no reason to place it against a wall. Anything from a large bookshelf to a small display shelf can be used to subdivide a space. Folding room dividers are another great option.
The Magic Couch
Your couch can also create a physical divide between living areas. This is another piece of furniture that people often place against a wall that doesn't need to be. Place yours in an open area to create a distinct room. The only requirement is having a couch that looks just as good from behind as it does from the front.
Top Down
A physical divider doesn't have to take up valuable floor space. You can create distinct living areas by hanging things from the ceiling. An antique window, a shadow box, a curtain, two posters back-to-back, a wall hanging… this is a chance to get creative. If it can be securely hung, it creates a boundary, and it fits with your décor, it's worth considering.
Studio Apartments at VIDA
At VIDA, we offer 3 different options for studio apartments. While similar in size, each offers different finish levels. From basic living to high-end elements like Corian counters, tile, and moveable kitchen islands, we have an option to fit your budget and aesthetic. Our Studio A units even include a sliding barn-style door that lets you close off your sleeping area. You can review our floorplans, pricing, and amenities here.